He's sitting there on the plane, dejected, his red-socked feet resting on the back of the seat in front of him. 
She boards the plane against all odds, having had a ticket to New York instead of Boston. She turns her head to find him, the reason she switched planes, the man she now knows is her true love.
She's caused a commotion with her late arrival, so people are turning to look. He joins them, wondering what is going on. He sees her and his jaw drops slightly. He had never expected to see her again, having finally given up on her only minutes earlier. 
She smiles at him, that prize-winning smile that made him fall in love with her to begin with and his face changes again, this time to one of utter joy and happiness. She is there for him, and his elation shows. 
He stands up slowly and goes to her. She wraps her arms around him and they kiss, long, passionate, romantic, and knowing. 
The plane takes off as the ever-helpful Italian ground crew waves from below and the end credits begin to roll. 
She's sitting there in her booth on her last day of work, collecting train tokens "like a veal," her expression a mixture of dejection and boredom.
Someone drops a token into the bowl and the cash register bell rings.
Someone drops a ring into the token bowl instead of a token. The music changes, an upbeat and hopeful jingle. She looks up. There he is, a mischievous grin on his handsome face, surrounded by his entire family.
"Lucy," he says, and smiles. She smiles back, her trademark shy smile; she knows what's coming. She picks up the ring and laughs a little before meeting his gaze. 
"I need to ask you a question," he says.
"Get down on your knee, it's more romantic!" his grandmother says loudly.
"He's proposing; let him do it!" hisses his godfather.
"I AM letting him do it!" she hisses back, elbowing him gently. Lucy laughs and covers her face with her hand, the ring on the tip of her thumb. 
 "Can I…come in there…please?" he asks her as if he didn't know the answer.
Suddenly serious-faced, she says, "I can't." His smile fades a little, but she's not finished: "Not without a token." 
He drops a token into the bowl without missing a beat, his smile returning. As the cash register bell rings, he goes around into the booth with her. 
"He's doing it!" squeals his mother from outside.
He drops down to eye level with her and looks at her, his expression a mixture of hope and mystery, his eyes squinting slightly with emotion. He takes the chance and says, "Marry me?" without breaking eye contact. Without missing a beat, she replies, "Yeah," and gives him a big smile, "I love you." It is the first time she has said those words to anyone else and his eyes get squinty and slightly red with emotion again as he replies, "I love you back."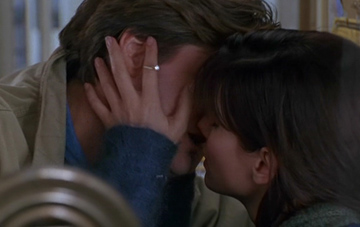 The ring now on her index finger, they kiss. It is a kiss filled with passion, warmth, and love. Suddenly they remember where they are and are both struck by embarrassment and shyness. Then she goes in for another kiss.
The scene changes to their wedding day as they kiss in the back of a train that reads "JUST MARRIED" in hopeful letters. 
Lucy's voice says, "So, I had planned to marry Peter, but… I married Jack instead. Thank goodness my father was right. Life doesn't always turn out the way you plan."
Okay, so I kind of failed the whole thirty day challenge thing. It's been about seven months since my last Buffy challenge post, but I'm a trooper so I'm gonna keep going. 
I did some research on this question, and I came up with Kennedy.
I don't really get why people didn't like Kennedy. Granted, she wasn't my favourite Potential, and she wasn't one of my favourite characters, but she was definitely the most mentioned character when asked who people hated. 
Kennedy, Kennedy. Well, she's assertive. She knows exactly who she is and she isn't ashamed of it in any way, including her sexuality. She pursues Willow with a type of aggression and confidence that is, of course, what the series is known for: strong women. There are many different types of strong women, that is not to say that Willow's first girlfriend, Tara, was not a strong woman. She was, but in a much more behind-the-scenes kind of way. She was meek and shy, whereas Kennedy is loud and kind of obnoxious sometimes. 
She's a complete character foil to Tara in a way that lets Willow feel as though she's not replacing Tara with someone else. Moving on from Tara is, of course, a rather traumatic task for Willow, but with the help of Kennedy and the rest of the Scoobies, she finds herself back in a healthy relationship and far away from the abusive and addictive relationship with magic that she had turned to after Tara's death. 
This is part of what makes Kennedy so awesome. Not only is she another butt-kicking female, but she contributes significantly to the personal growth of those around her. Similarly, Kennedy's sense of logic and desire to fight and win causes her to question Buffy's authority in episode 19 of season 7 ("Empty Places"), which might make some people angry on Buffy's behalf (after all, doesn't she deserve to be listened to? We all know she's on the right track and she knows what she's talking about. Buffy has experience that the others simply don't have!) but questioning authority in this case forces Buffy to take a step back, slow down, and analyse the situation better. She must realise that she's not alone and she needs to think about the group as well as herself.
It is a necessary heartbreak that Buffy needs. I know the others all help to oust Buffy from her own house and all that, but Kennedy's assertiveness, I feel, is the frontliner for the whole thing. 
Plus, Kennedy is ridiculously like Buffy in a lot of ways. The show could have easily been called Kennedy the Vampire Slayer. 
-K.